We're getting ready for another side-splittingly funny Best Foods Comedy Gala - now at The Civic!
Tickets are flying out the door for the Auckland Best Foods Comedy Gala! To be notified when more seats are released, join our waitlist here!
Gala host Rhys Mathewson leads the lineup, joined by Tofiga Fepulea'i, Justine Smith, Chris Parker, Kura Forrester, Eli Matthewson and Pax Assadi. Plus - Urzila Carlson, Hayley Sproull, Guy Williams, and Nick Rado!
There's still more cracking talent to come, for what is shaping up to be one heck of a show! Check out all the deets below.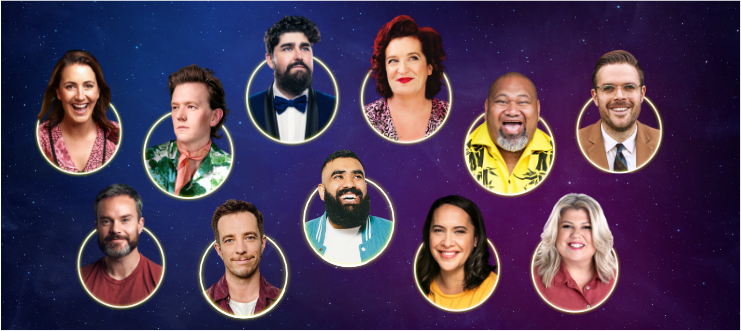 Rhys Mathewson has won the Fred Award for the Best NZ show at Comedy Fest, taken out the Billy T Award, is a regular on 7 Days, and has just been announced for Dancing with the Stars! He made his first Comedy Fest appearance back in 2006 at age 15, as part of the New Zealand Comedy Trust's Class Comedians high school programme. Three years later he was crowned the youngest ever Billy T Award winner at just 19 years old, and has now racked up over 10 Comedy Fest shows. His high energy and sharp observations make him the perfect comedian to take the audience on an epic live comedy experience leading this incredible lineup.
Making it a night to remember will be Aotearoa's self-proclaimed 'humble' king of comedy Tofiga Fepulea'i. Tofiga has graced screens and stages around the world with his unique brand of Pacific Island-style comedy, both as a solo act and as part of the legendary Laughing Samoans. The biggest-selling act at last year's Comedy Fest, he brought down the house in massive rooms across NZ. Come watch him do it again at the Best Foods Comedy Galas this September.
Justine Smith smashed the hosting role last year, so we've got her back to slay the Gala stage. One of NZ's queens of comedy, Justine has been named the Best Female Comedian three times! She's a regular on 7 Days and The Project, and an all-round comedy legend. Her razor-sharp wit and biting commentary will have you in stitches.
If you're not already a massive fan Chris Parker – where have you been hiding? From felting on Instagram to his hilarious all-to-real impressions online, Chris had us laughing through the lockdowns… and then he won Celebrity Treasure Island! Seriously, Chris has practically taken over screens large and small, and you now can see this Fred Award winner in the flesh this September.
You might know her as Desdemona from Shorty, Judy from Educators, or Ronnie from Golden Boy – but we know her as Billy T Award winner, Kura Forrester! Kura (Ngāti Porou) is one multi-talented comedian that has us cracking up whether's she's behind the mic, or in front of the camera. Kura's crack-up stand-up style is based on observational honesty and is packed with outrageously relatable stories that are sure to have you in stitches.
Fresh off of Dancing With the Stars, Eli Matthewson is having a moment. He's been winning hearts across the motu with his swift moves on screen and sassy supplementary commentary on social media. His playful style is backed by his strength in writing - he's the head writer of Have You Been Paying Attention?, and has writing credits on THREE's Golden Boy. Eli took away the coveted Director's Award at the NZ Intl Comedy Festival in 2019, and last year went on to win the Fred Award for most outstanding show in the 2021 Fest with his laugh-out-loud hour Daddy Short Legs. Expect lots of laughs from the man of the moment!
Pax Assadi is back for what's sure to be another ripper Best Foods Comedy Gala set. Since hosting the Best Foods Christmas Comedy Gala back in 2020, Pax has been working non-stop, creating the smash hit show Raised by Refugees, touring with Frickin Dangerous Bro On the Road, as well as curating the newly announced lineup of The Comedy Mixtape - plus he's recently become a co-host of The Great Kiwi Bake Off. Thankfully we've nabbed a spot in his busy schedule for what's shaping up to be the most wonderful night of comedy this year!
On top of touring and TV appearances around the globe, you can catch Urzila Carlson's bold banter regularly on kiwi screens on 7 Days and Have You Been Paying Attention?. Her sharp observational style is lively, relatable and down-right hilarious. In 2019, Urzila became the highest-selling comedian ever at The Melbourne International Comedy Festival and took home the coveted People's Choice Award. In 2020 she released her Netflix special, Overqualified Loser, and wreaked havoc on Taskmaster NZ 2021. Check out her trademark deadpan humour and cheeky wit on stage at The Civic this September.
Easily one of New Zealand's most prolific local comics, Guy Williams joins the line-up with his famous deadpan Kiwi humour, as seen on his popular TV show and podcast New Zealand Today. After earning the prestigious Billy T Award in 2012, Guy quickly became known for his antics as co-host on Jono and Ben, his hilarious stand-up shows, presenting on The Edge radio station and recently providing lots of laughs on the first season of Taskmaster NZ.
Joining this already world-class line-up of top tier talent is television and radio host, actor and all-round comedy superstar Hayley Sproull. Best known as host of The Great Kiwi Bake Off and Have You Been Paying Attention?, she's also host of ZM's Breakfast show, starred in Golden Boy and Funny Girls and regularly appears on 7 Days. Hayley quickly became a Comedy Festival regular after winning Best Newcomer in 2012 and has since brought her comedy high notes and keyboard to the stage at the Best Foods Comedy Gala.
Nick Rado has opened for Rob Brydon, Aziz Ansari and Russell Howard; he's performed at the Sydney Opera House in the prestigious Just for Laughs showcase… and now he'll be performing for you at the Auckland Best Foods Comedy Gala! Nick is a multi-award winning writer, MC and stand-up comedian. He is a guest panellist and head writer of over 250 episodes of 7 Days and put out a special, On-Trend, on SiriusXM last year. He also took home Best Male Comedian at the NZ Comedy Guild Awards in 2019 and has performed to sell-out crowds both internationally and at home.
We've got even more incredible talent to announce over the coming months, for what is shaping up to be one stellar night of live comedy. But why wait? Book your seats now before they're all gone!
Proceeds from this event will support the New Zealand Comedy Trust, who run the (usually) annual NZ Intl. Comedy Festival, to continue their work supporting the development of the local comedy industry
--
Important Information
The health and safety of our patrons, performers and staff is our priority. The New Zealand Comedy Trust and our venue partners will be operating to the Ministry of Health Covid-19 guidelines and directives in place at the time of the event.
Existing Ticketholders
If you booked tickets for the original date, and you can attend on the new date, you don't need to do anything – your tickets will automatically be transferred to the new show.
If you are unable to make the new date, you'll be able to request a refund directly from Ticketmaster until Friday 29 April. They will be in touch directly soon with more information.
Lineup subject to change. Wellington event info.