2020 NZ International Comedy Fest On-sale Now!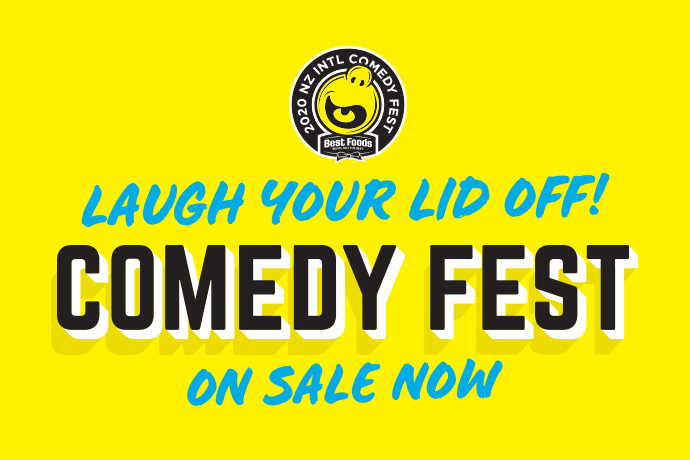 Cast your peepers on the full programme for the 2020 NZ International Comedy Festival with Best Foods Mayo .... make your picks and book your tix now!
Coming at you this May, the NZ International Comedy Fest with our best mates, Best Foods Mayo, deliver the 28th year of comedic delights, fresh to Auckland and Wellington's doorstep.
With over 140 shows on offer, from local homegrown heroes and international superstars, a tasty spread of diverse laughs await. Prepare to laugh your lid of and flavour your day with funny!
Here's how to make your picks:
LOCATION: Pick your location (AKL/WGN) in the top bar of homepage.
FIND A SHOW: We've made this super easy, pick from the full list by scrolling and clicking LOAD MORE to see every show that's on in that city, or SEARCH by show name if you know what you're after.
CATEGORIES: Whether you're hungry for a bit of international stardom, or some homegrown heroes, if you love the stand-up or improv, or have a hankering for some theatrical comedy we've got them 'categorised' by that.
VENUES: Want to see a show in a particular place? You can search by your favourite VENUES in our search bar and see what's on offer.
PICK BY DATE: If you've only got certain days available in your calendar, search by date or a date range in FIND A SHOW.
But the BEST thing to do? Grab a physical copy of the programme. You'll be able to hold it close, all the way through to the end of the Festival. You can also trust it with all your deep dark secrets, it will never tell a soul. Can't find one? Fill out the form at www.comedyfestival.co.nz/request-a-programme and we'll post one or two right to your door.
Still don't know what to choose? Give our office a call on 09 309 9241 or info@comedyfestival.co.nz and we can make some personal recommendations based on what you like.