All the Winners from the 2017 Last Laughs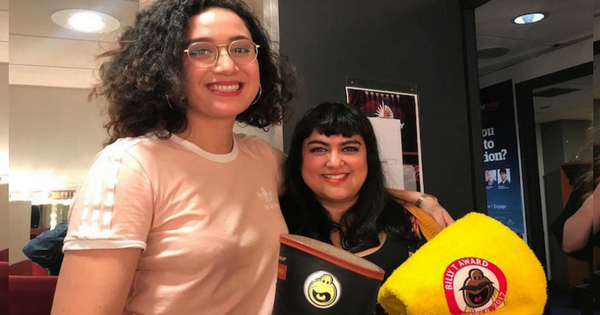 Sunday 21st of May, the 2017 NZ International Comedy Festival powered by Flick Electric Co. came to a close at Last Laughs after 115 shows in Auckland and 68 shows in Wellington.
Two of the most prestigious awards in comedy were awarded by the New Zealand Comedy Trust. The FRED, for the best New Zealand Show in the Festival, and the Billy T Award.
The night contained performances from the The FRED Award finalists Rose Matafeo, Guy Montgomery, Fuq Boiz and Eli Matthewson, alongside the Billy T nominees Angella Dravid, Li'i Alaimoana, Patch Lambert, Paul Williams and Ray O'Leary.
We couldn't be more excited to introduce you to 2017's winners!
THE 2017 FRED AWARD WINNER - ROSE MATAFEO
Named in honour of much-loved comedy icon John Clarke's legendary Kiwi character Fred Dagg, The FRED Award was introduced in 2006 and recognises the Festival's Best Show by a New Zealand comedian.
The FRED Award winner Rose Matafeo, received the much revered Golden Gumboot and a prize package including; a cash grant of $2,500 from the New Zealand Comedy Trust, a poster and marketing campaign design by Festival designer Steve Grant, dinner at their choice of SKYCITY restaurants and a $500 Soar Printing voucher.
A previous Class Comedians graduate and winner of the Billy T Award 2013 we are so pleased to announce Rose's win.
THE 2017 BILLY T AWARD WINNER - ANGELLA DRAVID
Started in 1997 and inspired by comedy legend Billy T James, this award celebrates the growth of fresh talent in the New Zealand comedy industry. Each year it is awarded to an outstanding emerging performer with a commitment to their comedy career.
Angella Dravid took home the prestigious Yellow Towel for the Billy T, a $4,000 cash grant from New Zealand Comedy Trust, a spot on TV3's 7 Days, a Phantom Billstickers campaign, a consultation with Withers Tsang and dinner at their choice of SKYCITY restaurants.
Angella has got an amazing future ahead of her and we couldn't be more proud to announce her win of this illustrious award.
Other winners on the night...
Best International Show:                 Joel Creasey - Poser
Best Newcomer (Auckland):           Melanie Bracewell – Brace Yourself
Best Newcomer (Wellington):         White Man Behind a Desk - Live