Best Foods Comedy Gala Heralds the Start of the 2019 NZ International Comedy Festival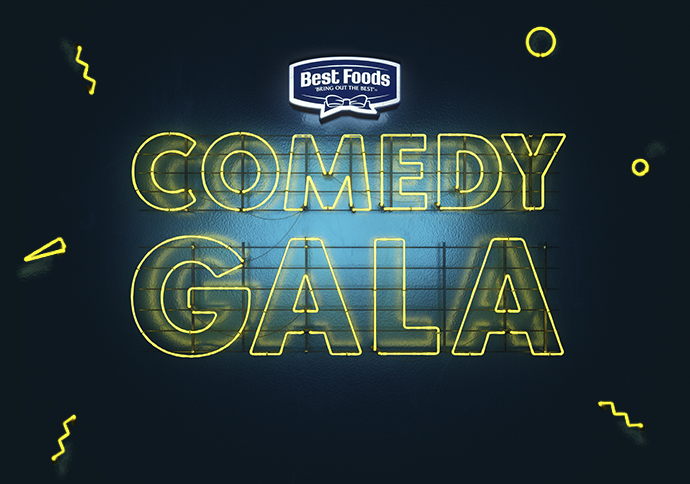 Tickets On Sale Now!
Click here for more info about the Wellington Best Foods Comedy Gala - Sun 5 May
---
Get ready for another side-splitting evening of incredible live comedy with the return of the Best Foods Comedy Gala, in Auckland on Thu 2 May at The Civic and in Wellington Sat 5 May at The Opera House.
A smorgasbord of delights from all corners of the comedic world will come together to deliver your kind of funny, for two and a half hours of hilarious good times. There is no better way to sample a perfect snapshot of the Comedy Fest line up at large!
In Auckland, superstar Aussie comic and winner of Best International Show at last year's Fest, Rhys Nicholson will lead the charge, playing host to an extraordinary collection of comedians in the stunning surrounds of The Civic. In Wellington, our very own award-winning sassy wāhine Justine Smith will wrangle the talent in the Capital City at the mighty Opera House.
Kick starting the line up for this year's event in both centres are New Zealand's favourite South African, Urzila Carlson, 5-star rated comedic maestro James Acaster (UK) and The Chase's Paul 'Sinnerman' Sinha (UK) who makes his first ever NZ appearance. Aucklanders will be treated to a set from 2018 Billy T winner Melanie Bracewell, and Wellingtonians will bask the radiance that is Alice Snedden, co-host of podcast Boners of the Heart and writer and star of TVNZ's Bad News! But wait, there's more! Further local and international acts will be announced over the coming weeks.
If you can't make it on the night, comedy lovers will get a chance to experience the fantastic Best Foods Comedy Gala line-up with a peek behind the scenes when the Auckland show is broadcast on TVNZ. A big thanks go to NZ On Air for helping to make this happen.
The Fest is super excited to be partnering with Best Foods Mayo again who are showing awesome commitment to supporting the comedy industry, as the Gold Sponsor of the Comedy Fest for the next three years.
Proceeds from this event will support the New Zealand Comedy Trust to run the annual Comedy Festival and continue their work in the development of the local comedy industry.
AUCKLAND:
Thu 2 May, 8pm
Live at The Civic Theatre
Auckland Live
Book at comedyfestival.co.nz
Filmed for broadcast on TVNZ, with support from NZ On Air.
Auckland first performer announcement:
Rhys Nicholson (Aus) – Host
Urzila Carlson (NZ/SA)
James Acaster (UK)
Paul Sinha (UK)
Melanie Bracewell (NZ)
WELLINGTON:
Sun 5 May, 7.30pm
Live at The Opera House
Book at comedyfestival.co.nz
Wellington first performer announcement:
Justine Smith (NZ) – Host
Urzila Carlson (NZ/SA)
James Acaster (UK)
Paul Sinha (UK)
Alice Snedden (NZ)
For Media Enquiries contact:
Kelly Geater / kelly@elephantpublicity.co.nz