COMEDY IS BACK ON THE MENU WITH THE BEST FOODS CHRISTMAS COMEDY GALA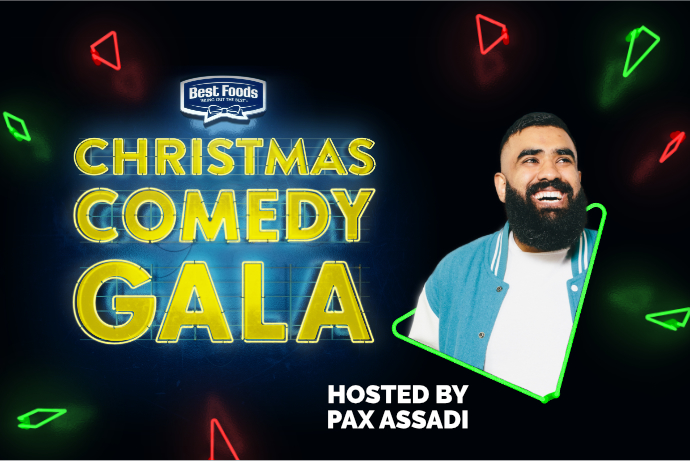 After a year that has offered fewer laughs than most, the New Zealand Comedy Trust are thrilled to round out 2020 by serving up a homegrown spread of gourmet giggles! The Gala we all know and love returns with a new Christmas twist as the Best Foods Christmas Comedy Gala, bringing a blockbuster night of comedy to The Civic in Auckland on Saturday 7 November, and The Opera House in Wellington on Monday 9 November.
The absolute best of Aotearoa's homegrown talent will delight in this celebration of pre-Christmas cheer, led by Pax Assadi and his brilliant hosting talents. A regular on both stage and screen, and one-third of hilarious sketch group Frickin Dangerous Bro, Pax has racked up an impressive list of award nominations including a 2013 Billy T Award nod, a NZ Comedy Guild nomination for Break-through Comedian of the Year, and a 2016 Fred Award nomination for his solo show, Mid-Season Form. A Comedy Gala veteran, Pax has appeared on the bill for the last three years, stepping up to running the show in 2020!
Joining them is Ben Hurley, hot off the back of performing all across the country this year on his sell-out 'Straight-out-of-Lockdown' tour. A Fred and Billy T Award winner, Ben's trademark style has won him adoring fans in Aotearoa and abroad, and is one of our most recognisable comedic talents. After hosting in Wellington last year, Justine Smith returns to the bill in both cities with her razor-sharp wit and biting commentary. Among her multiple awards, Justine has picked up three 'Best Female Comedian' nods at the NZ Comedy Guild Awards and also has a Billy T under her belt, making her one of Aotearoa's most prolific comics. Another excellent Gala returnee is Eli Matthewson - since his last stint on the Gala stage, Eli has picked up the 2019 NZICF Director's Choice Award, become head writer for TVNZ's Have You Been Paying Attention? and has starred with the rest of the SNORT team in Snort Live, screening on TVNZ On Demand. Musical stand-up comedy duo and 2018 NZICF Director's Choice winners, The Fan Brigade pack satire, wit and waiata into their sizzling sets. Rounding out the first wave of the line-up is powerhouse pop-satire duo, Two Hearts (Laura Daniel x Joseph Moore), bringing with them absolute bangers and crack-up lyrics in their all-star pop-comedy hits.
The wonderful folks at TVNZ will again make sure that no-one goes without, broadcasting the Auckland Gala on TVNZ to offer a sneak-peek behind the scenes for those who can't make it to the live show.
With more acts due to join the bill in the coming weeks, tickets are already flying out the door in what is promising to be an amazing celebration of Aotearoa's comedy scene that is bursting with talent.
For tickets to the Auckland show click here.