Media Release
13 Oct 2017
Introducing the 2018 Billy T nominees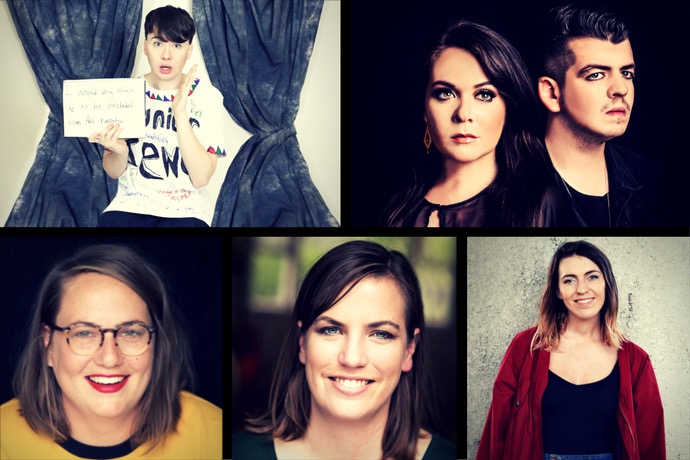 EXCITING LINE-UP OF SOME SERIOUSLY TALENTED COMEDIANS WITH A BROAD RANGE OF FRESH VOICES ARE THE FINALISTS FOR THE 2018 BILLY T AWARD
The five nominees stormed the showcase at The Classic in Auckland last night and impressed the judges with their show concepts and career goals at yesterday's pitches. 
Billy T James made huge changes to the way New Zealand comedy was experienced, forging a hugely successful career out of making people laugh through his wide variety of live performances and TV shows. The New Zealand Comedy Trust is proud to celebrate his memory and achievements, supporting up-and-coming comedians with the outstanding potential to take their comedy career to the next level. 
Tasked with making the tough decisions are an expert panel of five judges, who have a wide range of combined experience across the comedy, television and theatre industries. This year the judges are Rob Brown (Producer of 7 Days), Debs McSmith (Chair of the NZ Comedy Guild), Justine Smith (Billy T Winner in 2007), Kylie Sealy (former Festival Director of the NZICF) and Steve King (Writer, Producer and Director at Corporate Media, and original founding member of The Classic).
The comedians presented a fantastic range of creative inspiration in their show pitches. On stage their performances were electrifying and showcased some of the fresh ideas coming through. This surge of exciting talent means that the New Zealand comedy scene is certainly in great shape. 
The Billy T nominees will all perform their one-hour shows in next year's NZ International Comedy Festival from 26 April to 20 May.
The nominees for the 2018 Billy T Award are selected on their proven comedic ability; talent; dedication; current form and outstanding potential, and will be judged on all aspects of their show in the 2018 NZ International Comedy Festival. Final performances and the award presentation will happen at Last Laughs on Sunday 20 May 2018. 
We are excited to announce that the five nominees for the 2018 Billy T Award are:
•   Alice Snedden
•   Donna Brookbanks
•   Two Hearts - Laura Daniel & Joseph Moore
•   James Malcolm  
•   Melanie Bracewell
Alice Snedden is fast rising in the Auckland scene as a comedian, writer and improviser. She trained and performed at the Upright Citizens Brigade Theatre in New York where she completed their long form improv program. 
She was nominated for Best Newcomer at the New Zealand International Comedy Festival 2017 and is a member of the hit weekly show, SNORT, on at the Basement Theatre. Alice is currently head writer for TV3's Jono and Ben and Funny Girls, columnist for the Sunday Star Times and co-host of podcast Boners of the Heart.
---//---
Donna Brookbanks is a comedian, improviser and actor. She is a founding member of Snort, Auckland's cult hit improv show.
Donna debuted her solo show, Cat Lady in Waiting, at this year's NZ International Comedy Festival and was nominated for Best Newcomer. 
She has attended the Melbourne International Comedy Festival with Snort for the last 3 years and in 2017, was part of a double bill with Alice Snedden. Donna has appeared and written for TV's Funny Girls, Jono and Ben and Best Bits and has appeared twice as (instantly loved and critically applauded*) Wedding Celebrant, Leonie, on Shortland Street. *self-proclaimed
---//---
Two Hearts - Laura Daniel (Jono & Ben, Funny Girls, 7 Days) and Joseph Moore (also those shows) have ditched their solo comedy careers to become a serious pop-music duo that go by the name of Two Hearts. Self-titled the Bieber and Beyoncé of musical comedy, this powerhouse duo delivers catchy AF bangers, that also have jokes in them.
"The next big thing in comedy. Hell, even better than that, I felt like I was watching the next big thing in New Zealand" – The Spinoff
"I had mascara running down my face because I laughed so hard that I cried…One truly slick production" – Stuff.co.nz
---//---
James Malcolm is the Taylor Swift of New Zealand comedy, because they both write about their ex boyfriends. 
James shocks and entertains with an explicitly detailed look into his adventures as a wannabe gay icon. He was nominated for the 2016 Billy T Award, and won the 2014 NZ Raw Comedy Quest.
---//---
At only 22 years old, Melanie Bracewell has shot to success in comedy. She began in 2014 as the winner of the 7 Days Comedy Apprentice competition and continued impressing audiences to win the 2015 Raw Comedy Quest.  
Since then, she has been in hot demand, performing at events including Rhythm and Vines and won the Best Newcomer award for her first solo show in the 2016 Comedy Festival. With goofy observations and natural stage charisma, Melanie is a master of anecdotes.