NZ On Screen: John Clarke - The Collection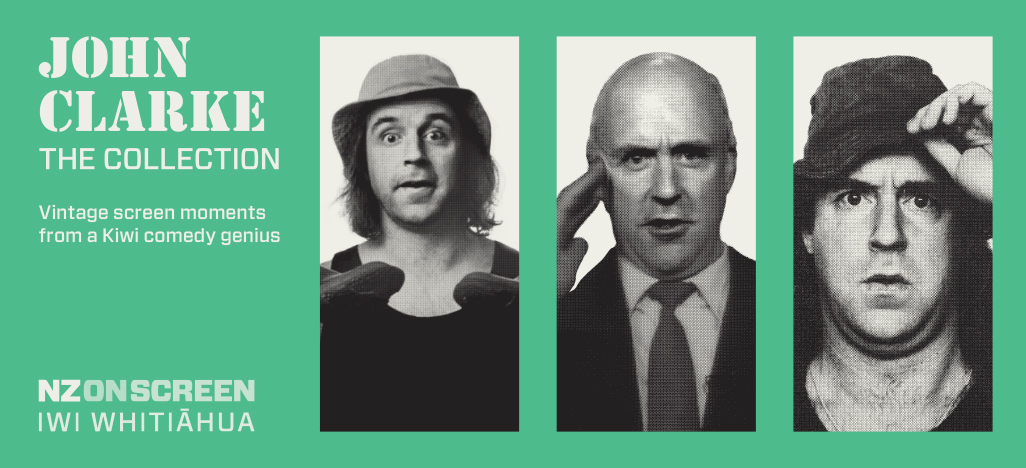 NZ On Screen Launches John Clarke - The Collection
Kick it in the guts and tell the dog to get in behind – NZ On Screen has launched a brand new collection that pays tribute to the one and only John Clarke!
Containing a precious collection of screen moments that celebrate the career of this Kiwi comedy icon, you'll see skits, interviews, specials and more from across Clarke's extensive career.
Whether it was performing as Fred Dagg on screen, recording hit singles, or taking his stage show on the road through 1970s New Zealand, you'll find a bit of what you fancy from Clarke's satirical, yet relatable, take on the typical Kiwi farming bloke. You'll get a glimpse of Clarke's success in Australia through an assortment of full-length interviews, with snippets of his offshore work interspersed throughout.

Clarke's early skits from New Zealand news and current affairs shows Gallery, Nationwide and Tonight at Nine are well represented, and full-length specials A Bit of a Dagg and The Wonderful World of... make an appearance. The Dagg Sea Scrolls get a look in, as does The Dagg spoof episode of Country Calendar, and the Trevs show their faces again in the Geoff Murphy-directed Dagg Day Afternoon.
But that, as they say, is certainly not all! Alongside further humorous treats and various hilarious interviews, there are written tributes from colleagues, friends and those whom Clarke influenced. We also get a sense of his impact on a young comedy industry, and a sense of the man himself, in a special interview compilation from the Funny As TV series. There's also some commentary from the public on their memories of Clarke and Dagg, and much, much more besides…

Head to NZ On Screen now to view a wealth of vintage screen moments from this Kiwi comedy genius and see why the Comedy Fest's own Fred Award was named in this man's honour.
All content is free to view and enjoy!