Lockdown Laughs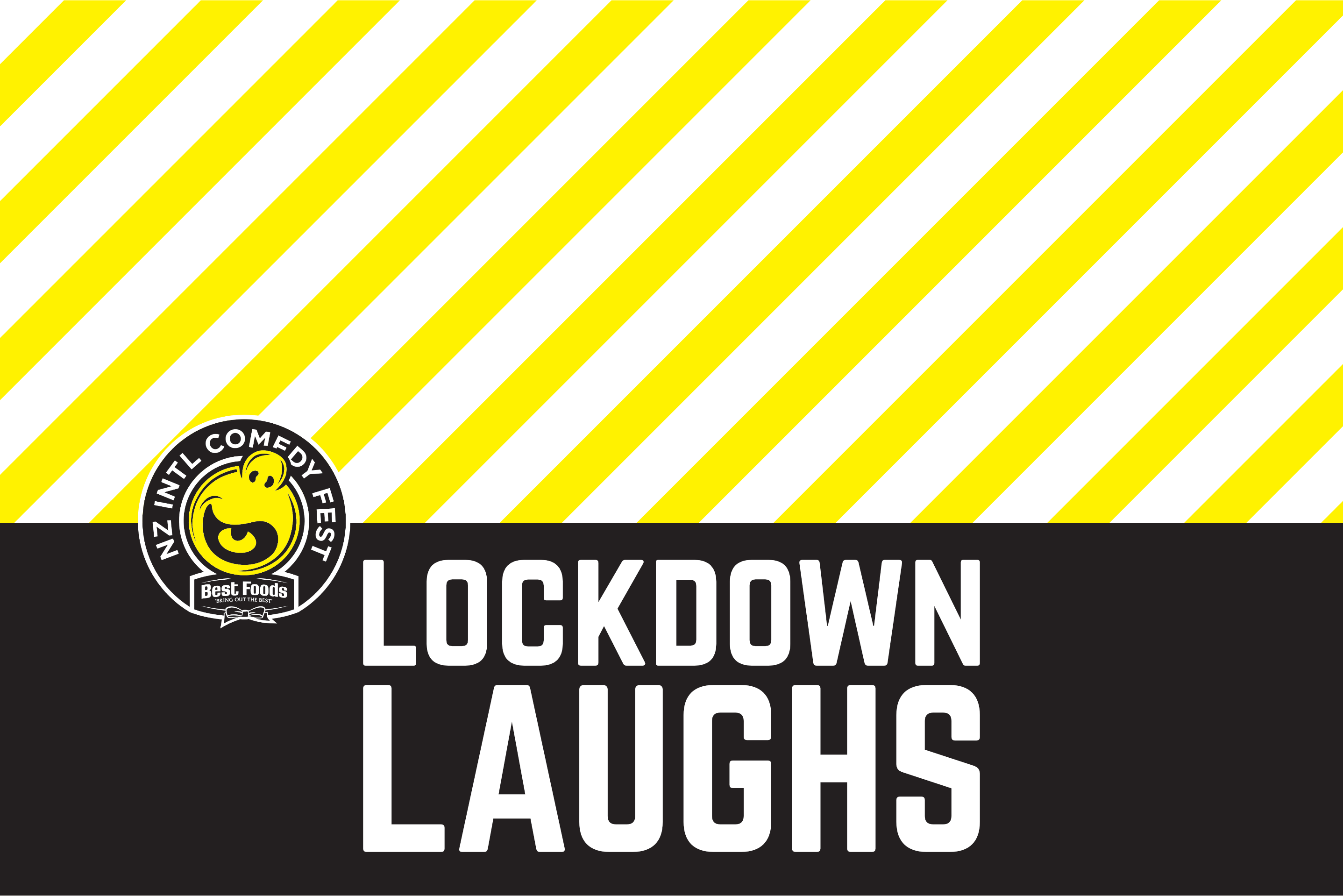 Kia Ora Comedy Fest Fam!
Now that we're all at home, safe in our own bubbles, we've finally got time to catch up on all that content we've been meaning to watch for a while now - but where to start!? Don't worry we've got you covered with Lockdown Laughs. Twice a week we're going to be sharing with you our top picks of what to watch, listen to and read during the lockdown! This week we're throwing you some of the best local content NZ's got to offer, here's our first 6 picks to get your through the weekend. We're also delivering our recommendations to email inboxes twice a week - want to get in on the action?
Sign up for our newsletter here.
We also want to hear from you! Send us some of your recommendations and you might be featured right here - you could be a quarantine celebrity in no time. Just email them through to info@comedyfestival.co.nz and make sure to include those links!
Stay safe Aotearoa x
Are you missing your burger fix in lockdown? Well, we've got some inspiration for you -

Cooking with Comedians Best Burger Build Off

with our mates at Best Foods! Catch Chris Parker take on Tom Sainsbury in the ultimate burger battle under the watchful eye of The Fan Brigade - some laughs AND some inspiration for dinner this week all in one. Check out the episode over on the

Best Foods Facebook page

.




Want to check out their recipes? Find them on the

Best Foods website

!

Most of you will be no stranger to Jimmy Carr's acid wit – and whether he's in stand-up mode, appearing as TV host or as quizmaster, there are plenty of ways to allow Jimmy into your home this lockdown (if you dare).

Taking matters into his own hands, Jimmy has made his own Little Tiny Quiz of the Lockdown - an interactive game for everyone to play along with from home. Ten questions are uploaded daily with a follow through on the answers two hours later. No prizes, but if you're missing your weekly pub quiz, or looking for a reason to argue with your family, then this one could be for you.

The wonderful Mighty Boosher, British Bake Off host and wearer of fabulous haircuts

Noel Fielding

is hosting a very lovely

Art Club

through his Twitter feed. Open to everyone (but mostly kids), Noel selects a theme and accepts all submissions to his Twitter handle

@noelfielding11

. A winner will be drawn by a guest judge and the chosen artwork will go straight into the Art Club Hall Of Fame. (We particularly like the snowflake made from a freshly nibbled slice of salami.) While the hours of activity might not be social for us in NZ, for those who have thrown their clocks out the window by now and are making their own indoor rules, this might be right up your alley.





Check him out

@noelfielding11

on Twitter.

If something more physical is of appeal, Taskmaster's umpire Alex Horne has set up his own set of visual challenges with

Hometasking

.




Laying down challenges via social twice a week, Alex invites us all at home to jump on in, grab your camera and make idiots of ourselves in the name of time-wasting entertainment. Previous tasks have included 'Camouflage Yourself, Then Reveal Yourself', 'Make the Best Dancing Elephant', 'Turn Your Bathroom into a Venue' and much more. Even if you can't be arsed joining in, it's well worth a look. Don't forget, the ACTUAL

Taskmaster

, where celebs and comedians make eggs of themselves (including our own Rose Matafeo), is also available to view

here

.

The kiwi team behind Believe it or Not Quizzes (they probably run the quiz in your neighborhood!), aren't letting lockdown stop them - not only are they making their quizzes availble for FREE for you to play at home, they're also living-streaming a quiz every Wednesday. This week's edition even features Shaun Wallace from The Chase!



To get in on the action head to their

Facebook page

.

If you're REALLY looking to pass a decent chunk of time, immerse yourself into some deep, deep quizzing on one of the UK's most legendary, and longest-running quiz shows,

Big Fat Quiz of the Year

. This 90-minute long annual show takes a look back at the year that was and has featured some of the most hilarious people to come out of the UK since it's inception in 2004. You can find the 2019 show now on

TVNZ On Demand

, right alongside the

Big Fat Quiz of the Decade

which asks us to dust off those deeply filed braincells and remember things from the last 10 years. (That could almost be considered a challenge all by itself!).

8 Out of 10 Cats Does Countdown

is always good for a brain tease. Be it words or numbers, get the edge over those on the panel (or your housemates while they're in the loo) with a bit of live pausing while you work out the solutions in your own time. You can buff your braincells, AND have a laugh with brand new eps arriving on

Duke

each Thursday night, and catch ups through

TVNZ On Demand

.

The Best Foods Comedy Gala hits TVNZ 2 this Friday night, at 8.55pm. The second installment of 2019's comedic night of nights, this episode features hot sets from Paul Sinha, Justine Smith, Frickin Dangerous Bro, Melanie Bracewell, Brennan Reece, Alice Snedden and Jamali Maddix. Relive the glamour of Auckland's Civic and slide into something less comfortable, pop on a DIY tiara and break out the bubbles! We dare you to make Friday the most glamourous night of the week (please tag us in the pix if you do!).

Check it out on TVNZ2 on Friday 3 April at 8.55pm or on all three episodes on TVNZ OnDemand!

To get the full historical low down on the kiwi comedy scene, there is no other place to turn than the incredible five part doco-series,

Funny As

. Featuring a full-to-bursting line-up of legendary comics and supporters of the NZ comedy scene, this series touches on everything from live and musical comedy, to pioneers of Kiwi sceen humour and our own comedy exports. There is no better way to get up to speed on the highs, lows, challenges and hilarity of our comedy history.





Check it out on

TVNZ ON Demand

, and if this isn't enough for you, head to

NZ On Screen

for the full unedited interviews.

Tim Batt is broadcasting from his garage with Happening – a regularish live streaming show that beams silliness, guests, creativity and japes direct from YouTube into your home. Watch in amazement as Tim wrestles technology to bring together a bunch of isolated faces into a cohesive bundle of joy for your amusement. So far the likes of Guy Montgomery, Eli Matthewson, David Farrier, Rose Matafeo, Alice Snedden and Chris Parker have all made an appearance – who knows who else might pop up. Dive on in, and if you like what you see you can lend a bit of financial support through Patreon

here

.





Check out

Happening

on Tim's Facebook page,


Tim Batt - Comedian/Man

Side-splitting comedic maestros Rose Matafeo and Alice Snedden deliver daily updates from isolation with their Boners of the Heart podcast. Hilarious, (and not always about boners), this aural morsel will provide a comedic shot in the arm, and make you forget about your troublesome flatmates for at least a good 30 minutes. On hiatus since September last year, we can at least say that this virus has been good for something by bringing this duo back together for more podcast good times.

Check them out at Little Empire Podcasts, Spotify and anywhere else you find your podcasts!

If you've not seen Festival-favorite Urzila Carlson's Netflix spesh, now's the time to catch up. Filmed as part of the Netflix

Comedians of the World

series, Urz, alongside Christchurch's Cal Wilson showcase the funnies with a distinctly kiwi flavour. Why not travel the world from the comfort of your couch and check out the full list of 47 comedians on offer while you're at it!





Head to Netflix, search

Comedians of the World

and then head to the Australia and New Zealand season.

Proving that he's no one-trick pony,

Chris Parker

is not only serving hilarious updates on Instagram, but he's also embraced his inner craftsperson and taken up the art of 'felting'. Join him for a step by step introduction on creative stabbing.





Check out Chris at

@chrisparker11

on Instagram - parts 1 to 4 up now!