NZ Comedy Trust & Withers Tsang present Class Comedians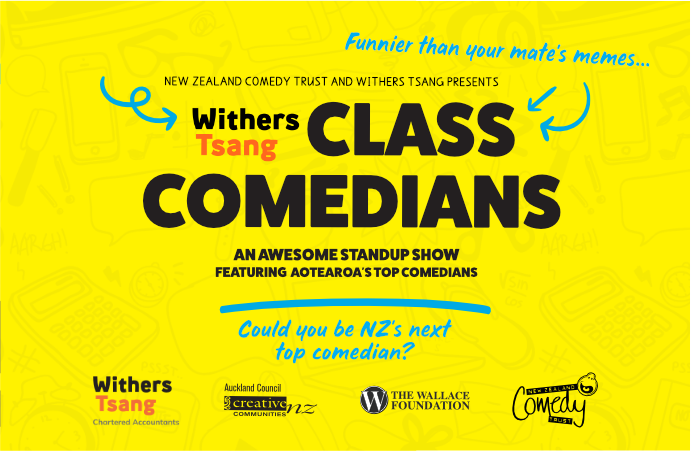 The team behind the NZ International Comedy Fest are stoked to bring you our Withers Tsang Class Comedians programme!
Aimed at high school students and their whānua, come and see Aotearoa's top comedians perform a stand up comedy show, followed by a workshop where you can learn the tricks of the comedic trade.
Hosted by the award winning Brendon Green and featuring some of the funniest kiwis around, prepare to settle in for a great gig and then get all the inside tips from comedians including Hayley Sproull, (The Great Kiwi Bake Off), Rhys Mathewson (The Project), Kura Forrester (The Adventures Of Suzy Boon, Snort), James Roque (Frickin Dangerous Bro, The Spinoff TV), David Correos (Billy T Award Winner) and Ruby Esther (Winner of 2017 Raw & 2018 Best Debut at the Comedy Festival).
Previously only available in selected schools, we're excited to open up Withers Tsang Class Comedians to the community due to public demand! The shows will be held in various locations around Auckland on Saturday 30 March & Saturday 6 April. The comedy shows and workshops are free for high school students and their families, but numbers are limited and seating will be on a first in first served basis.
The journey to the stage doesn't stop there! Once the workshops are complete, a small number of students will be selected to carry on with the full Class Comedians programme. This free programme includes weekend and school holiday workshops, followed by a final performance in Q Theatre as part of the 2019 NZ International Comedy Festival.
The Withers Tsang Class Comedians programme is bought to you with the generous support of Withers Tsang, Auckland Council Creative Communities, The Wallace Foundation, Q Theatre and the New Zealand Comedy Trust.