Nominees for the 2019 Billy T Award Announced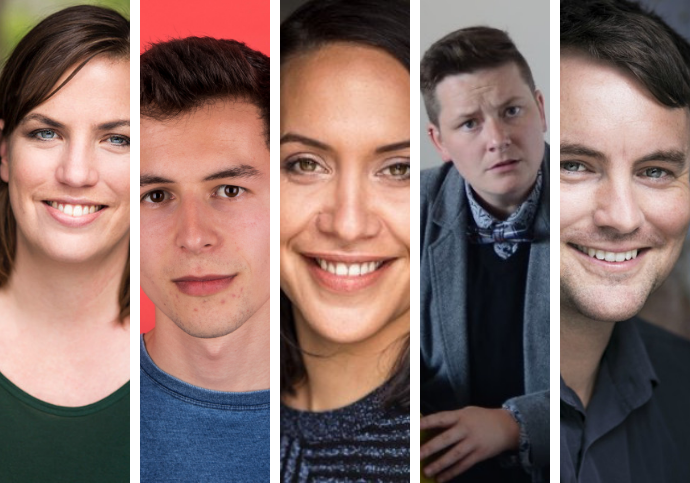 The New Zealand Comedy Trust are excited to announce some seriously talented comedians with a broad range of fresh voices as nominees for the 2019 Billy T Award.
Over the last two nights The Classic hosted performances from all the applicants for the 2019 Billy T Award. Each of the 18 comedians presented a fantastic range of creative inspiration in their show pitches and on stage their performances were of an extremely high standard making the judges decisions exceptionally difficult.
The five nominees for the 2019 Billy T Award were selected on their proven comedic ability; talent; dedication; current form and outstanding potential.
 It's with great pleasure the NZ Comedy Trust announce that the nominees for the 2019 Billy T Award are:
Donna Brookbanks
James Mustapic
Kura Forrester
Ray Shipley
Tom Sainsbury
The five nominees will all perform at the Electric Kiwi Billy T Jams on Friday 22 February, hosted by this year's winner Melanie Bracewell. They will also perform their own one-hour shows in next year's NZ International Comedy Festival from 2 - 26 May 2019, where they will be judged on all aspects of their performance. The award presentation is at the Electric Kiwi Last Laughs on Sunday 26 May 2019. 
This year's expert panel of five judges, who have a wide range of combined experience across the comedy, television and theatre industries, are Justine Smith (Comedian and Billy T Winner 2007), Rob Brown (Producer of 7 Days), Sophie Dowson (TV and Theatre Producer), Kylie Sealy (Former Producer and MD of the NZ International Comedy Festival, and current NZ Comedy Trust Chair) and Steve King (Writer, Producer and Director at Corporate Media, and original founding member of The Classic).
Billy T James changed the face of comedy in Aotearoa, forging a hugely successful career out of making people laugh through his wide variety of live performances and TV shows. The New Zealand Comedy Trust is proud to celebrate his memory and achievements, supporting up-and-coming comedians with the outstanding potential to take their comedy career to the next level with the Billy T Award.
Earlybird tickets (over 25% saving) for the Electric Kiwi Billy T Jams are on sale now.
Nominee's Bios
Donna Brookbanks
Donna Brookbanks is a stand-up comedian, writer and actor. She was a Billy T nominee 2018 and sold out her 2nd solo show 'You Do You Babes' in Wellington and Auckland. She was nominated for Best Newcomer in 2017 for her first show 'Cat Lady in Waiting'. Donna has recently appeared on 7 Days, Funny Girls and Jono and Ben. She has just returned from performing at The Comedy Store and Fringe Festival in Sydney. 
 James Mustapic
James Mustapic (known for his web series' Shorty Street Scandal and Repressed Memories) has a satirical, dry style and makes cutting observations which come in surprising contrast to his soft spoken presence. Known for sharing unapologetic stories of people who have done him wrong over the years, he enjoys candidly expressing his emotions in a self-deprecating manner. James doesn't pull any punches and treads the line between polite and risky. 
Kura Forrester
Kura Forrester was born and raised in Wellington and is of Ngati Porou decent. Kura has worked throughout the country as an actor, writer, comedian and maker of funny things since 2008. In 2014 Kura studied with master clown and professor of theatre, Philippe Gaulier.
Kura debuted her solo show Tiki Tour in the 2015 New Zealand International Comedy Festival and gained a nomination for Best Newcomer that year.
Kura loves to play characters and has enjoyed starring on Jono and Ben recently as one of her favs Bronson Atarangi. Kura also belongs to improvised comedy group Snort.
Ray Shipley
Ray Shipley is a comedian and poet, but mainly works at a very sunny library, teaching people how to delete their enemies from Facebook and use the printer/photocopier. Since starting stand-up two years ago, Ray has been awarded 'Highly Commended' at the 2017 National Raw Comedy Quest Final, and this year was nominated for 'Best Newcomer' for their show He & She at the 2018 NZ International Comedy Festival. Ray is also the current Christchurch Poetry Slam Champion.
Tom Sainsbury
Tom has acted in New Zealand feature films Pork Pie and Waru and the television shows Wellington Paranormal, Shortland Street, Filthy Rich, Bad Seed, Hamish and Andy: True Story and Jono and Ben. In 2017 he rose to prominence doing short form video content, satirising New Zealand politicians using the Snapchat App. In 2018 Tom began doing similar political content for Australia's Comedy Central. In 2018 he also performed in the theatre productions of Wigging Out, Gays in Space and Giggly Gerties. In 2016 and 2018, Tom wrote and directed the winning short films in the 48hour film competition.