Second Line-Up Announced for Best Foods Christmas Comedy Gala!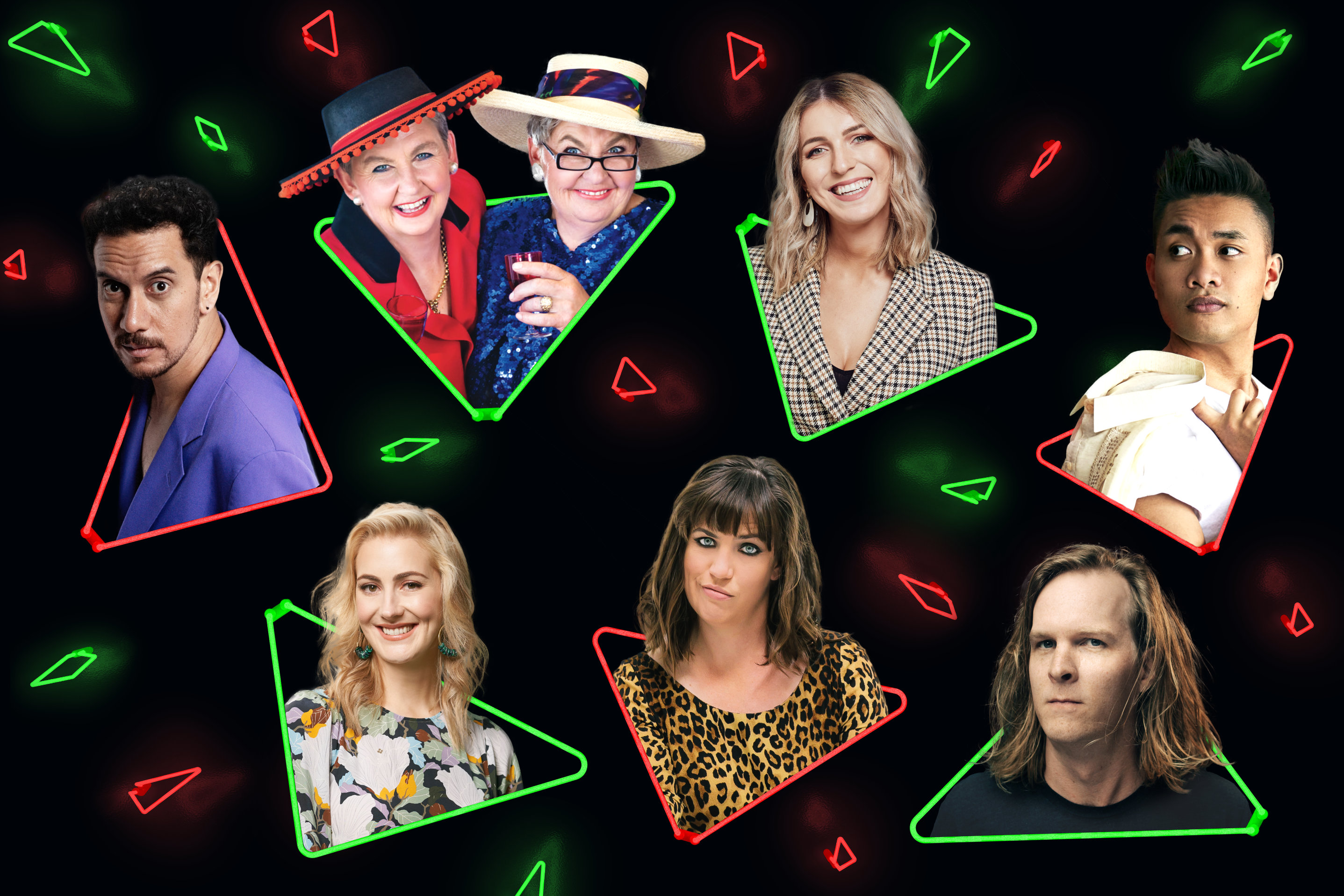 These may still be 'unprecedented times', but a bit of laughter is the best medicine! Prepare yourself for a homegrown spread of gourmet giggles at the Best Foods Christmas Comedy Gala, hosted by the hilarious Pax Assadi - member of comedy trio Frickin' Dangerous Bro, Fred Award nominee and all round comedy superstar!

We're over the moon to have a huge announcement we can finally share with you: we're unveiling seven more phenomenal acts! Keen to see who we've added to the bill? Scroll down to check out which beloved comics we've rounded up, including a Fred award-winner, some very familiar faces from the telly and two Topp women.
We are absolutely honoured to welcome national treasures and comedy legends, Dames Jools and Lynda Topp, The Topp Twins, to the Best Foods Christmas Comedy Gala. After more than 30 years of performing their unique blend of comedy, original music and audience participation, the Topp Twins' well-loved characters have become part of our national culture. The Dames are also award-winning singer-songwriters, activists and just bloody funny humans. They've performed around the world, been awarded the NZ Order of Merit, had a box office hit movie about their lives and been inducted into the NZ Music Hall of Fame. Don't miss this rare chance to see these Untouchable Girls in Auckland and Wellington this November.
She's the best PM impersonating comedian in Aotearoa – Melanie Bracewell everybody! Melanie is a regular guest on The Project, 7 Days and Have You Been Paying Attention, and is co-hosting new TVNZ comedy show, Last Dad Standing alongside How to Dad (aka Jordan Watson). Did we mention she's a Billy T and Raw Comedy Quest winner too?!

Where do we start with the multi-multi-talented James Nokise? In addition to being an award-winning comedian, he's a theatre maker, writer, and host of critically acclaimed RNZ podcast Eating Fried Chicken in the Shower. Last year James took home the coveted Fred Award, which recognises the best NZ show in the Festival, for his sell-out hit God Damn Fancy Man; we can't wait to see what this comedic virtuoso brings to the Gala in November!
One third of the hilarious Frickin' Dangerous Bro trio, TV star and NZ's favourite Filipino comedy son – James Roque is coming to the Best Foods Christmas Comedy Gala! In 2019 he received a Fred award nod for his Festival smash Boy Mestizo, and you'll have seen him on 7 Days and Have You Been Paying Attention. James is also a co-founder of Proudly Asian Theatre, and has toured internationally with Indian Ink Theatre Company. Whip-smart, hilarious and not to be missed, James has garnered rave reviews: "Roque's performance is impeccable" – The Spinoff.
Host of Have You Been Paying Attention NZ & The Great Kiwi Bake Off, star of Golden Boy and our very own backstage Gala host in 2019, the hilarious Hayley Sproull joins the line-up! As well as starring in all your faves, Hayley has written for some of NZ's funniest TV shows (including 7 Days and Jono and Ben) AND she's bloody talented musician too! Hayley's most recently been busy bringing the lols in her travels around Aotearoa for TVNZ Breakfast, don't miss this rare chance to catch her live on stage at!

She's a founding member of wildly successful comedy improv outfit SNORT, a two time Billy T Nominee and self-professed Cat Lady in Waiting – it's the remarkable Donna Brookbanks! Donna has made a huge splash over the last few years: writing and starring in 7 Days and Funny Girls and smashing it in last year's festival with her solo show Heroic – absolutely do not miss Donna, she's "a joyous eruption of chaos, energy and laughter" - Ruminator
Fresh off his 2019 solo show Fire Yarns, which nabbed him Best Live Show and Best Gag at the 2019 NZ Comedy Guild Awards, Paul Douglas rounds out our second line-up! As well as writing for 7 Days and The Project, he's surely one of NZ's busiest live standups, performing across the country with some of the biggest names in the industry. Paul brings his Westie charm to the Gala this November! "Had the audience doubled over with laughter" - Comedy Out West
And there it is, seven more stellar acts on the bill for NZ comedy's biggest night of the year - with more still to come! These guys join our already packed line-up of Ben Hurley, Justine Smith, Eli Matthewson, The Fan Brigade and Two Hearts (Laura Daniel x Joseph Moore). Make sure you don't miss out - grab those tickets asap!
For tickets to the Wellington Best Foods Christmas Comedy Gala click here.
For tickets to the Auckland Best Foods Christmas Comedy Gala click here.