The Best Comedy Show on Earth is going on tour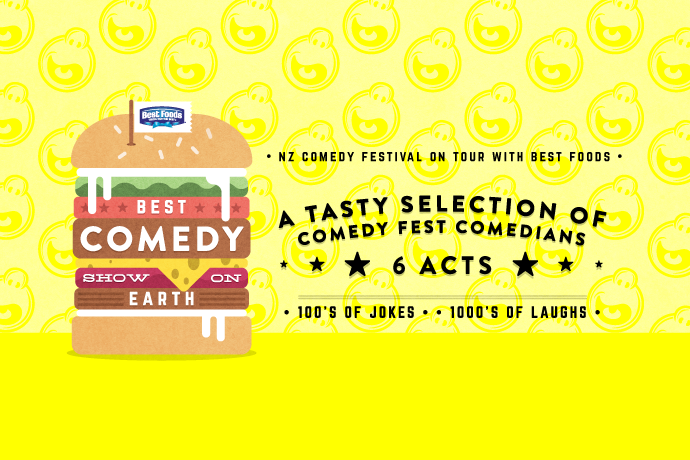 The Best Comedy Show on Earth with Best Foods Mayo was a massive success at this year's Comedy Festival, so we've got together again to take the show on tour! People from all over the country can now get their own taste of comedians that audiences were raving about.
Travelling to 13 cities, they'll bring a smorgasbord of fast-paced comedy featuring 6 acts, 100's of jokes and 1000's of laughs – all for under $40!
Like the Tour de France this tour happens in stages: Top Half of the North Island, the Lower North Island and the South Island leg. Mark your local date in the diary because the Best Comedy Show on Earth Tour with Best Foods Mayo will offer a myriad of delicious comedy flavours to suit everyone - making it a great night out for a date, mates, social groups or families that love a good time. 
Click on your preferred location for more information and to buy tickets! 
BEST COMEDY SHOW ON EARTH TOUR w. Best Foods Mayo:
UPPER NORTH ISLAND:
Serves up:            
Brendhan Lovegrove, Fan Brigade, Frickin Dangerous Bro, Melanie Bracewell, Brendon Green, Eli Matthewson 
Whangarei:          Forum North, Wed 30 Aug, 7.30pm
Auckland:            Bruce Mason Centre, Takapuna, Thurs 31 Aug, 7.30pm
Tauranga:            Baycourt Theatre, Fri 1 Sept, 7.30pm
Hamilton:            Claudelands, Sat 2 Sept, 7.30pm
Rotorua:             Civic Theatre, Sun 3 Sept, 7.30pm
LOWER NORTH ISLAND:
Serves up:       
Brendhan Lovegrove, Justine Smith, James Nokise, Nick Rado, Fan Brigade, Melanie Bracewell
Wellington:                      St James Theatre, Thurs 14 Sept, 7.30pm
Palmerston North:           Regent Theatre, Fri 15 Sept, 7.30pm
New Plymouth:                TSB Showplace, Sat 16 Sept, 7.30pm
SOUTH ISLAND:
Serves up:            
Rhys Mathewson, Dusty Rich, Fan Brigade, Eli Matthewson, Angella Dravid, Brendon Green
Dunedin:              Glenroy Auditorium, Tues 19 Sept, 7.30pm
Invercargill:          Civic Theatre, Wed 20 Sept, 7.30pm
Queenstown:       Memorial Centre, Fri 22 Sept, 7.30pm
Oamaru:              Oamaru Opera House, Sat 23 Sept, 7.30pm
Christchurch:      The Piano, Sun 24 Sept, 3.30pm Matinee & 7.30pm